Mini trampoline with steel springs
Steel springs can support more weight and have a longer service life than rubber cable. They also offer a very dynamic rebound. This allows a swinging frequency which corresponds to your normal rhythm, as we know it from jogging, walking and ski gymnastics. Steel springs are first choice for sporty-dynamic and dance exercises as well as for endurance training, jogging, etc.
With springs the elastic mat provides a rather stable, sturdy support. Therefore, this system is recommended in case of balance problems or untrained ankle muscles. It prevents overstraining and premature exhaustion of the muscles and related risks of injury like spraining of the ankle. Therefore it is first choice for rehabilitation of ankle, knee and hip joints.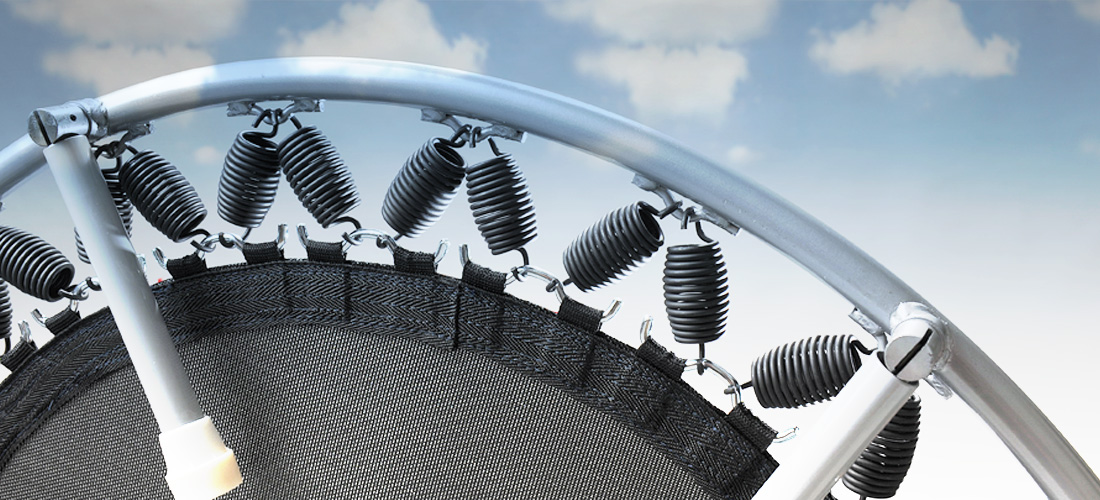 Mini trampoline with rubber cables
Rubber cable is softer than steel. It is more stretchable and the mat goes down a longer way until it reaches the bottom of the movement. This brings about a slower swinging frequency. Especially recommended for slow, finely dosed swinging. For example when joints or the spine are very sensitive. The lower the body weight, the more we recommend this type of suspension, like for small children or lightweight adults.
Trimilin is equipped with specially coated, very durable rubber cable. Its superior quality characteristic is the high extensibility and elasticity, which is the secret behind the superb Trimilin bounce quality: Active-dynamic rebound and very high fun factor.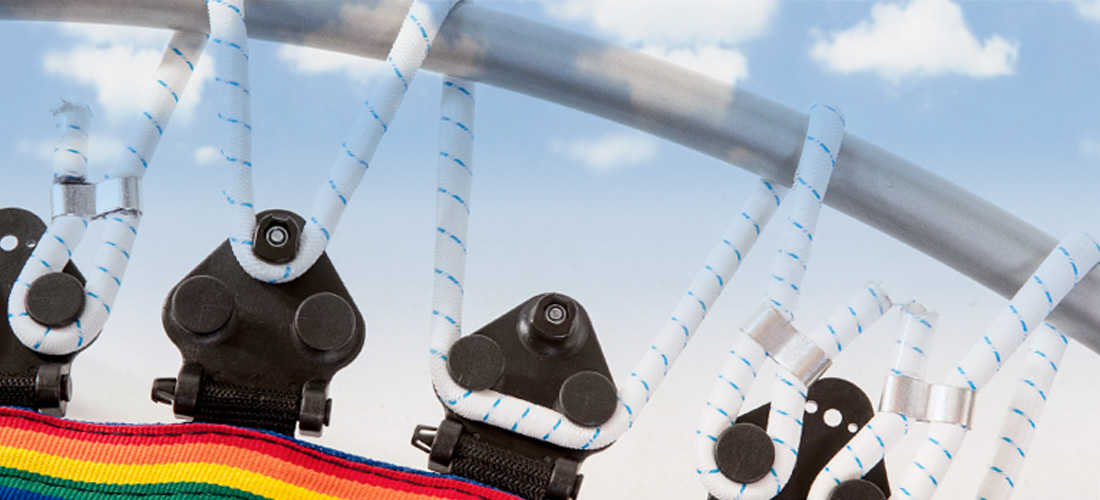 [/row]
Trimilin offers you different types of suspension, from sporty-dynamic to "soft as a cloud"
The rebounder should be adapted to your body weight for best performance. We recommend you to consider the indicated body weight limits in order to largely avoid contact with the floor. For a natural rythm appropriate for walking and running the suspension should not be softer than level 4 (Trimilin-Vario 100).